A core part of our stainless steel fabrication portfolio, Great Lakes Stainless has an extensive history with stainless steel cabinets.  From early in our story as a company, we have provided metal millwork items for residential, medical, foodservice and commercial markets.  To serve any of these areas, our quality has to be top notch and we have the track record to prove it.  With the engineering, project management and fabrication skills to deliver the very best, Great Lakes Stainless is your best choice for stainless steel cabinets.
Institutional Stainless cabinets
For the medical and industrial markets, we can provide stainless steel cabinets based on your specifications or design to suit your needs.  In addition to the basic design and requirements, we have the capability to incorporate almost any configuration of options.  For instance: locks, toekick, casters, slope tops, adjustable shelves, and soft close hardware, just to name a few.  Even more, we provide lead-lined cabinets including leaded glass too.  Through our dealer networks, hospitals and government agencies around the country have relied on Great Lakes Stainless cabinets.  Stainless steel is the ideal material to ensure excellent patient care and clean, sanitary environments.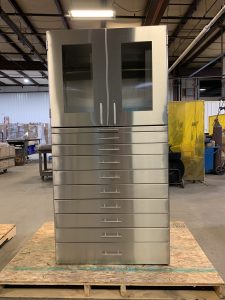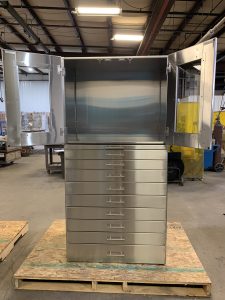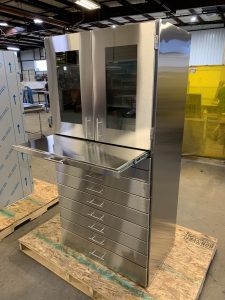 Residential Stainless Kitchens
We regularly deliver residential projects too.  We've outfitted some of the country's premier residences with interior stainless kitchens.  The most common use for our cabinets is to create truly fabulous outdoor spaces.  Take a look at the pictures below!  Enteraining and impressing your guests with our wide range of stainless options (maybe including a fully custom grill!) is one of the best ways to spend a summer evening.  Contact your contractor, architect, or designer and have them give us a call.  If you don't have one, we can direct you to a number of contractors and designers that know our work. If you are a contractor or architect, contact us for a new range of possiblities for clients.  We're happy to offer design details and budgeting for a smooth project from start to finish.