WE BELIEVE
IN GROWTH
FOR GOOD.
Stainless Steel Fabrication
As the name Great Lakes Stainless suggests, our roots are in stainless steel fabrication.  Having stainless fabrication in our core competencies is something we love and are proud of.  This capability really sets us apart from the typical steel fabrication company.  In fact, some of our best customers are also fabricators and manufacturers with significant internal capabilities. Yet they still choose us for their stainless work! Why would they outsource work they are theoretically equipped to produce?  It is our ability to accept and overcome the unique challenges presented by stainless steel sheet metal design and fabrication.
Material handling for stainless steel fabricators
The first challenge is the cost of the material (about twice the cost of regular steel).   Then there's the frequent requirement that the end product be aesthetically pleasing (in other words, fly).  This requires intentional care in handling the raw stainless steel sheets and custom metal fabrications in process to avoid scratches, dents, or damage.  That only happens with purpose-built handling carts and equipment, and the training and habits cultivated over years of experience handling the decorative stainless steel and expensive metals we work with daily.  Proper material handling is key for stainless steel fabricators!  Check out some examples below: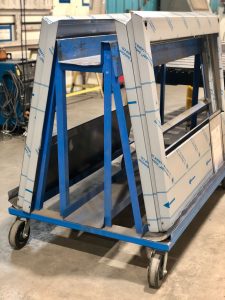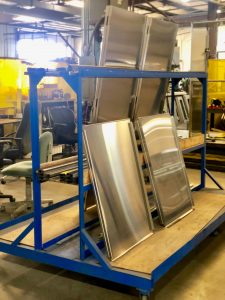 Specialized equipment for architectural metal fabrication
Beyond material handling, there are specialized and unique equipment capabilities that are required for stainless and decorative metal fabrication.  Great Lakes Stainless uses a state of the art 4KW fiber laser to achieve precise cutting at amazing cut speeds (check out the video of our fiber laser in action below). Unlike most metal fabricators, our bulk assist gas tank is not oxygen but 3,000 gallons of liquid Nitrogen for clean-cutting stainless steel.  We have a specialized twin-belt sander for putting exceptionally consistent and beautiful grain into stainless steel and other alloys.  Additionally, we have invested more than $40,000 in bending tooling to make sure we have clean, precise bends without marring or bend marks.  We also take exceptional care and clean the tooling regularly to make sure that we are not impregnating the stainless steel with foreign particles for life-long performance in our stainless steel fabrications.  Similarly, we keep all our tooling, including our plate rolls and other specialty equipment extremely clean and in good condition to process the highly visible aesthetic finishes we produce at the level you expect.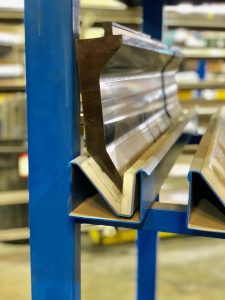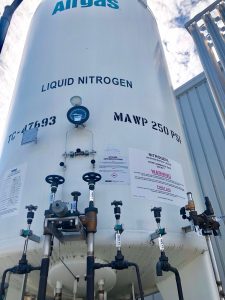 Stainless Steel Fabrication takes talent and experience
While the equipment we have is specialized and unique, the thing that sets us apart is the talent and experience of our staff.  Not only is stainless steel expensive, the physical characteristics of the metal leads to significant expansion and distortion when welding.  It's notoriously difficult to achieve warp-free, dimensionally accurate results that meet the aesthetic requirements of your projects. Making it especially challenging is some of the lighter gauges that are specified, which our welders and finishers execute beautifully.  Check out the welds and finish on a stainless steel cabinet (that's 18 gauge stainless steel), the beautiful colors and tight weld bead in the stainless steel welding, or the time-lapse video of the finishing of a welded seam.  Our custom metal fabricators make this stuff look easy, but ask anyone who has tried, it's truly an accomplishment to achieve world-class results.  These guys and gals really know their craft, and day in and day out produce amazing, creative, and truly stunning results.  Be sure to check out our projects page!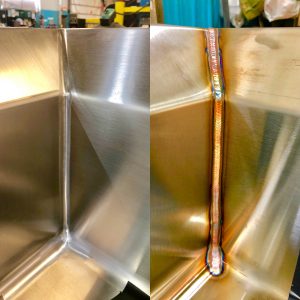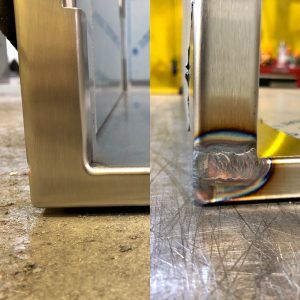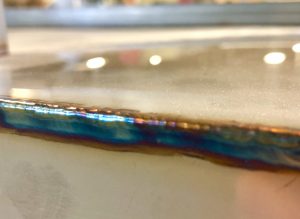 Engineered for Success
The word "custom" in custom metal fabrication means that we get a huge variety of designs and ideas that our clients need us to execute.  In order to get the right manufacturing information into the hands of our skilled artisans, it takes a strong coordinated effort between our project managers and our engineers in the design and approval process.  Our project management and engineering team has more than 100 years of combined experience just with Great Lakes Stainless!  In that time, the efforts at continuous improvement and investment in our people and processes are evident in the complete adoption of 3D modeling. Using this for our manufacturing information has greatly increased accuracy, reduced our lead times, and significantly improved collaboration with our partners.  In fact, our senior CAD systems developer Brad has often pushed our software vendors to the edge of their capabilities.  This has led several of our software vendors to refer potential customers to our engineering team regularly for references on the software packages we use in our custom fabrication designs and manufacturing.  For example, you can find our name on Woodwork for Inventor site here.
Experts in very large custom assemblies
We often have highly custom assemblies that can run well past 1000 unique parts.  To handle this, we have developed special techniques and custom programs for our Autodesk Inventor software.  These allow us to handle large assemblies efficiently while maintaining stability of the models, consistency of part naming, and quick generation of CAM-ready files for manufacturing.  With the files and prints  ready to go, we distribute them to the manufacturing floor digitally via iPads, which opens some very powerful opportunities for efficient communication.  Now, required updates occur in one server location that quickly updates all iPads in the shop.  Likewise, the craftspeople on the shop floor can annotate the prints, and take pictures of the manufacturing process, features, and final products.  We preserve all of this information in the job file for reference later if needed.  Our ISO 9001:2015 auditors have been unanimous in their praise of this system of communication for its robust nature, ease of use, and ability to ensure consistent, correct information throughout the production of the complicated assemblies we produce in our custom stainless fabrication environment.  An example of a large engineered assembly is below.